Literally three lines of code. Now what if we tried to do it without Pandas? I won't even go through the many lines of code necessary to read in the data. Consider just this one line.
df

.

groupby

(

'insomnia'

)[

'percent correct'

]

.

median

()



There are elementary tasks that go into it if we were to code it up without using Pandas's delicious functionality. We can loop over the rows in the DataFrame with a for loop, check to see what the value of the insomnia column is with an if statement, put the value in the percent correct field into an appropriate array based on whether or not the subject suffers from insomnia, and then, given those arrays, sort them and pull out the middle value. Under the hood, all of those steps take place, but because we use Pandas's high-level functionality, those details are invisible to us, and glad we are of that.
Now, say we want to make a plot of some data. You can imagine that there are many many steps to building that. One way you could build a plot is to hand-generate an SVG file that is a set of specifications for lines and circles and text and whatnot that comprises a plot. (I have actually done this before, writing a C program that hand-generated SVG, and it was paaaaainful.) That would be a very low-level way of generating a plot. Plotting libraries in Python usually take care of the rendering part for you, either rendering the plot as SVG, PDF, PNG, or other formats, including interactive ones that use JavaScript and HTML Canvas that can be viewed in a browser. The plotting libraries then vary in their level of abstraction from the data set.
Lower-level plotting libraries typically are more customizable, but require more boilerplate code to get your data plotted and are therefore more cumbersome. Higher-level plotting libraries aim to make it easier to move directly from a DataFrame. Because of this streamlining, though, they are often more difficult to customize.
The developers of PyViz made a nice graphic for this concept.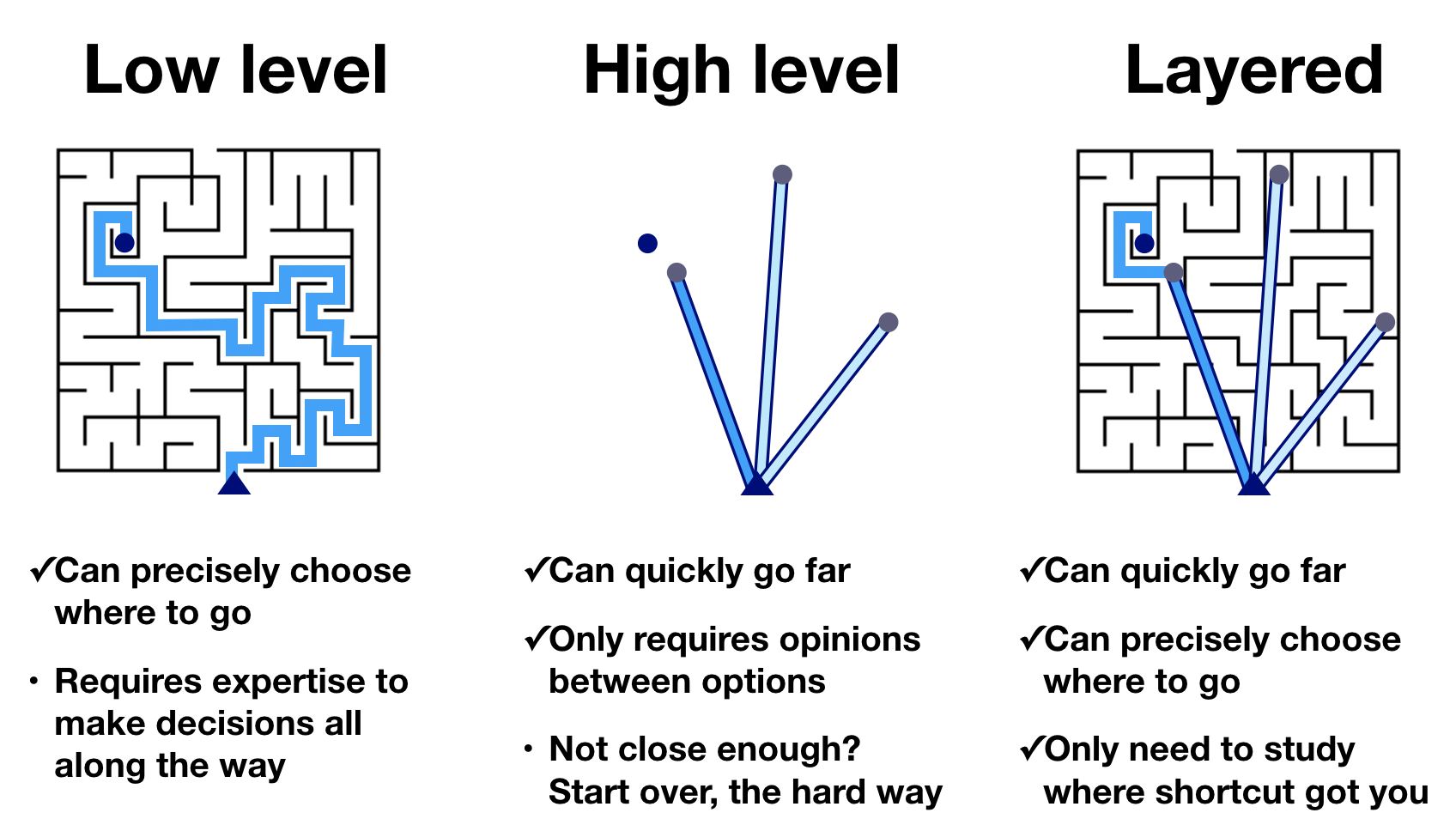 Copyright PyViz authors, downloaded from here.
Using a low-level plotting library, you can get to any graphic you like, but it takes many steps to do so. Using a high level library, you can rapidly get to many, if not most, of the graphics you like in very few steps. However, you cannot get to all graphics. In a layered approach, in which the higher level libraries give you access to the lower level customizations, you can get to any graphic, and can do so quickly. The layered approach requires proficiency in using the low-level and high-level libraries.